SearchEngineMarketing.com works with your team to develop the search engine marketing strategy that works for you.

Looking for a partner to help you take your in-house Search Engine Marketing (SEO and Paid Search Advertising) campaigns to the next level? We provide a range of services to help you get there, including consulting, training, and online PR.

What our clients are saying:
"SearchEngineMarketing.com has changed the way we do business.. most of our new leads now come through search engine results. Our competitors have contacted us to ask us how we've managed to do so well in rankings... we just told them we found someone who knows what they're doing!"
- Adventure Associates, Inc.

Meet Jamie Low: A Decade of Search Engine Marketing
Since 1996, Jamie Low has worked as a Search Engine Marketing consultant, trainer and educator to agencies, in-house marketing and development teams, as well as various industry conferences. His work has been featured in Inc Magazine, MarketingSherpa.com, the Sacramento Bee, the East Bay Business Times, and The Wall Street Journal.
Give your team the support they need to break through to the next level in your search engine marketing campaigns: Contact Jamie Low


Need A Speaker?
Need help with your in-house search engine optimization strategy? Jamie Low conducts a variety of workshops and tutorials that can be tailored to your organization's specific needs.
Video Tutorial For Book Publishers

SEO for Book Publishers: Beyond Book Search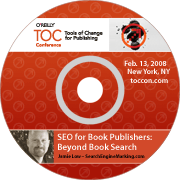 If you missed the New York Tools of Change for Publishers Conference, you can still learn about SEO strategies and tactics specific to the book publishing industry. The DVD tutorial is available exclusively through O'Reilly Media with free shipping & their 100% Guarantee.


New SEO Membership Service

Joblr SEO Visibility Score Reporting
We've recently launched a new beta product that tracks your keyword rankings, backlinks, PageRank and other factors to calculate and compare your overall SEO Visibility Score to your competition. Sign up for the 30 Day Free Trial to get started.